I have moved! Visit me at my new place:
I've been meaning to do this ages, so I've finally decided to get on with it. Just to be daring, I've got two.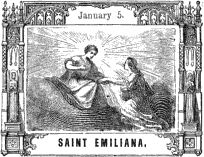 The first is the saint I chose when I was confirmed, St. Emiliana. St. Emiliana was an aunt of St. Gregory the Great and had two sisters, Gordiana and St. Trasilla. The three sisters dedicated themselves to the Lord, with their father's house as their monastery. Gordiana left her sisters to marry, but Emiliana and Trasilla persevered in their life of virginity, fasting and prayer.
Pope St. Felix III, their great-grandfather, appeared to Trasilla and showed her the place prepared for her in heaven. Trasilla died soon after on Christmas Eve. The day before the feast of Epiphany Trasilla appeared to Emiliana, beckoning her to celebrate the feast with her in heaven. The feast of St. Trasilla is celebrated on 24th December and the feast of St. Emiliana is celebrated on 5th January.
I chose St. Emiliana for fairly superficial reasons at the time but I've since realised that God works in mysterious ways, even through our own silliness. On some level I don't think we chose our patrons at all, I think they choose us.
The second is Our Lady of Sorrows, and it's not so much as I found the devotion as Our Lady found me. I was sorting through some old books of my father's that he didn't want and out of one of them flew this little piece of paper. I picked it up and it was a very battered holy card. I wasn't practicing the faith at the time but something compelled me to keep this little card. It brought me great comfort over the years and I grew a devotion to Our Lady of Sorrows without really realising it. In the many times I have moved house since then the original holy card has gotten lost somewhere (it's probably in a book I haven't read in ages) but I have since consecrated myself to Our Lady of Sorrows and renew that consecration almost every day.